Let us stay connected LIKE me on my facebook art page
~~~~~~~~~~~~~~~~~~~~~~~~~~~~~~~~~~

2016 Happenings:
​

​The Artchix: As We See It

A group of friends coming together to show their art.

Adrienne Knowles~ www.adrienneknowles.com/
Anna Crawford~ www.annasvision.com
Barbara Rohde~ www.barbararohde.com/
Kathy Morris~ morris.kathy2@gmail.com
Luna Lee Ray~ www.lunaleeray.com/
Sally Gillooly~ sally.w.gillooly@gmail.com

copyright ©2016 ~ All rights reserved to the named artists.

July 10 through September 4

at The Community Church

​of Chapel Hill Unitarian Universalist

Opening Reception
July 31, 2016
1pm to 3pm
Community Church of Chapel Hill, NC
106 Purefoy Rd.
in the commons

http://www.c3huu.org/
919-942-2050
Please call the church for hours.
​
​
~~~~~~~~~~~~~~~~~~~~~~~~~~~~~~~~~~

On going



In Chapel Hill, NC
The
Botanical Gardens
is a beautiful place to visit, the gardens are gorgeous any time of year!
I am honored that they have chosen a selection of my cards for sale in the garden shop so take a gander inside while you are there.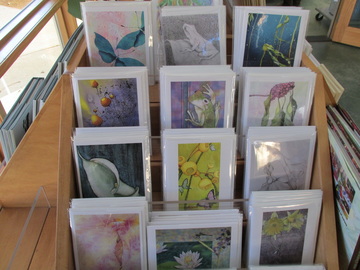 Blank note cards are a great way to say what you're feeling to your friends and family, or to keep them for your
own pleasure.


About my cards:

I choose a high quality linen paper for my cards. I love this card stock, it gives the them a nice texture that mimics watercolor paper. On the back is a smaller image, the title of the original work, the media used and my contact information.